New honours for Renishaw's Chairman
Sir David McMurtry, Chairman and Chief Executive of Renishaw plc, has received two new honours which recognise his significant contributions to the worlds of engineering and commerce.
Significant contributions to commerce and engineering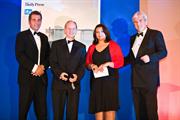 On June 23rd he received a Lifetime Achievement Award at the annual West of England Business Awards, a special honour that was only given this year to celebrate the twentieth anniversary of the Awards, which recognised Sir David's significant contribution to not only his own business, but also generally to the business community in the South West of England.
The Awards are sponsored and organised by PricewaterhouseCoopers in association with the Western Daily Press, ITV West and Beacon South West, and in its summary the judging panel noted that under the stewardship of Sir David McMurtry, Renishaw has grown to become one of the South West of England's biggest and most successful businesses, and that his track record of success "left the panel with no doubt that he was the most qualified to receive this prestigious award".
Just two days later, Sir David also received an honorary Doctor of Engineering degree from the University of Bath, adding to honorary doctorates that he has already received from three other UK universities.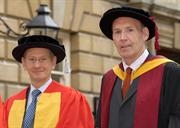 The presentation speech was delivered by Professor Tony Mileham, Head of Bath University's Mechanical Engineering Department (pictured right with Sir David), who said, "He is an inspirational role model for young engineers. In his career he has played a fundamental role in the design and manufacture of a family of products that have revolutionised precision measurements and made Renishaw the internationally leading company it is today."
News updates
Register for regular news updates from Renishaw
Editor downloads
New honours for Renishaw's Chairman

Sir David McMurtry, Chairman and Chief Executive of Renishaw plc, has received two new honours which recognise his significant contributions to the worlds of engineering and commerce.

[134kB]
All images and text - copyright Renishaw