Renishaw apprentice to represent UK at International Science and Engineering Fair
Roxanne Pollard, an apprentice from Gloucestershire-based Renishaw has been chosen to represent the UK at the Intel International Science and Engineering Fair (ISEF) in Los Angeles in May 2011
25 March 2011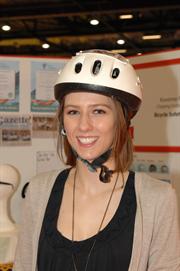 At the Young Engineer for Britain National Final held recently in London, Roxanne Pollard, a first-year technical apprentice with Gloucestershire-based Renishaw, was chosen to represent the UK at the Intel International Science and Engineering Fair (ISEF) being held in Los Angeles from 8th to 13th May 2011.
The award, which was presented on March 11th during the national Big Bang Fair, includes an all-expenses paid week-long trip to ISEF and was made to Ms Pollard for her innovative Bicycle Safety Helmet which allows cyclists to indicate presence and driving directions whist keeping full control of the bike. She originally developed the helmet as part of an A level Design & Technology course project whilst attending Chipping Sodbury School, near Bristol.
Ms Pollard's safety helmet project was judged by a series of experienced engineers and awarded points for concept, process, product and person. The final decision was made by a team from the Worshipful Company of Scientific Instrument Makers who selected her as their nominated attendee at ISEF, one of just six students who will represent the UK at the finals which take place at the Los Angeles Convention Centre, where some 1,600 students will compete for over US$4 million in awards and prizes.
Ms Pollard joined the Renishaw apprenticeship scheme in September 2010 and is currently based at the Gloucester Training Group where she is studying mechanical and electrical engineering. Although she has three A-levels and one AS-level, she turned down university places to apply for an apprenticeship. "The more I learned about it the better option it seemed," says Ms Pollard.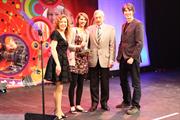 One of a series of honours for young engineers and scientists given at a glittering Awards Ceremony during the Big Bang Fair, Ms Pollard received her award from Brian Fishwick, Master of the Worshipful Company of Scientific Instrument Makers, in the presence of TV personality and particle physicist Professor Brian Cox, and Kate Bellingham, President of Young Engineers. The Big Bang Fair was held during National Science and Engineering Week, and is the UK's biggest single celebration of science and engineering for young people.
Speaking about her award, Ms Pollard, from Chipping Sodbury, says, "I was absolutely stunned to be chosen to represent the UK, and to receive the award in the presence of Professor Brian Cox and Kate Bellingham made it even more special. I'm really excited about the trip to California, although a little apprehensive at the enormity of the competition."
All images and text copyright Renishaw
Register for news updates
Register for regular news updates from Renishaw