Renishaw neuromate® robot and neuroinspire™ software installation at Great Ormond Street Hospital
24th February 2016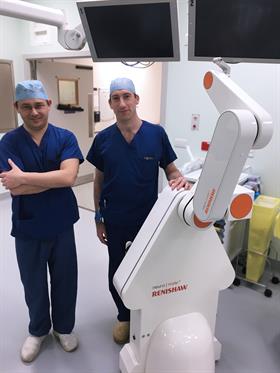 Renishaw is pleased to announce that a neuromate® stereotactic robot system and neuroinspire™ surgical planning software have been installed at one of the world's leading children's hospitals, Great Ormond Street Hospital (GOSH) in London, UK.
Mr Martin Tisdall and Mr Kristian Aquilina, consultant neurosurgeons at GOSH (pictured right) have already successfully used the systems for several Stereoelectroencephalography (stereo EEG) cases and stereotactic biopsies since the installation.
Mr Martin Tisdall, said, "The Renishaw neuromate is a fantastic tool for stereoEEG implantation. It has allowed us to place electrodes with submillimetric accuracy and this, in combination with the neuroinspire software gives great confidence to the surgeon even when targeting complex trajectories. The service and support we have received from Renishaw has been second to none."
Mr Kristian Aquilina, said, "Renishaw is a leading engineering company with a particular commitment to healthcare, especially for children and young people. Their numerous innovations have led to ground-breaking changes in deep brain stimulation, Parkinson's disease and the direct delivery of chemotherapy into brain tumours. At Great Ormond Street Hospital the Renishaw neuromate robot has already led to significant improvements in the way we biopsy tumours in delicate regions of the brain, where submillimetric accuracy is vital. We look forward to a long-term productive collaboration with Renishaw for the benefit of children and young people, particularly those with currently incurable life threatening disease."
Mr Stuart Campbell, Clinical Sales and Development Manager of Renishaw plc, said, "The use of the Renishaw robot will contribute greatly towards the innovative procedures Great Ormond Street Hospital is developing for the treatment of epilepsy and neuro-oncology. Renishaw is very excited to be working with such a world class institution and pioneering neurosurgeons to develop better surgical procedures and solutions".
For further information on the neuromate robot or the neuroinspire software, visit www.renishaw.com/neuro
About Renishaw
Renishaw is one of the world's leading engineering and scientific technology companies, with expertise in precision measurement and healthcare. The company supplies products and services used in applications as diverse as jet engine and wind turbine manufacture, through to dentistry and brain surgery. It is also a world leader in the field of additive manufacturing (also referred to as 3D printing), where it is the only UK business that designs and makes industrial machines which 'print' parts from metal powder.
The Renishaw Group currently has more than 70 offices in 33 countries, with over 4,000 employees, of which 2,700 people are employed within the UK. The majority of the company's R&D and manufacturing is carried out in the UK and for the year ended June 2015 Renishaw achieved sales of £494.7 million of which 95% was due to exports. The company's largest markets are China, USA, South Korea, Germany and Japan.

For more images, videos or information on Renishaw and its products, visit our mediahub