Renishaw opens significant expansion to Indian manufacturing and development facility
Renishaw, the global engineering technologies company, will formally open a 4,875 square metre extension to its Pune, India, facility on February 15th 2011.
11 January 2011
Renishaw, the global engineering technologies company, will formally open a 4,875 square metre extension to its Pune, India, facility on February 15th 2011. This expansion represents a near trebling of space at the Pune site, which is intended to meet the long-term growth needs for the company's Indian operations in terms of product assembly, software development, sales & marketing, and customer support.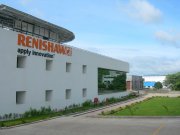 The newly expanded facility, which now totals some 7,500 square metres, will include additional space for Renishaw's Indian customer demonstration and training centre, which was first opened in 2008. With a rapidly expanding customer base and network of local offices, the extended space will be used to house larger numbers of CNC machine tools and co-ordinate measuring machines (CMMs) to aid pre-sales demonstrations and product training. To ensure the best conditions for metrology performance, one of the new demonstration rooms will also be tightly temperature controlled to 20 degrees Celsius, plus or minus 0.5 degrees.
The site, which is near to the prime Hinjewadi district location, will also include a brand new staff restaurant with a 150 seat-capacity that will ensure the highest quality of catering for Renishaw's Indian employees.
Speaking about the opening of the new extension, Sir David McMurtry, Renishaw's Chairman and Chief Executive, said, "This significant investment highlights the confidence that we have in our Indian operations, both in the ability to assemble products that meet the exacting standards set for our metrology products, and in the strong growth potential that we can achieve for our products within the Indian manufacturing community. We have been trading in India for almost 30 years and I am proud to see the contribution that Renishaw is making to Indian manufacturing and software engineering, both as an employer and through our products that help companies to raise quality standards and productivity levels."
The manufacturing facility at Pune is a 100% Export Orientated Unit (EOU) and manufactures a range of components for the Renishaw Group that were previously procured, or where assembly costs are critical to competitiveness, including cables for the company's machine tool, CMM and encoder products. Within India, Renishaw also has a wholly owned trading company, Renishaw Metrology Systems Private Ltd, which was created in Bangalore in 2000, plus regional sales offices in Delhi (Gurgaon), Pune, Chennai and Vadodara, supported by resident sales engineers in other important industrial centres. Further operations at the Pune facility include software development, and a procurement team sourcing high quality components from Indian vendors. Total employee numbers within India are now approaching 200.
The Renishaw Group currently has operations in 31 countries, with total employee numbers now over 2,300. For the year-ended June 2010, worldwide sales totalled £181.6 million (US$280 million).
All images and text copyright Renishaw
News updates
Register for regular news updates from Renishaw