TCT Live to feature award winning measurement products and services
Renishaw is focusing on measurement, calibration and motion control at TCT Live taking place at the Ricoh Arena, Coventry, UK, from 19th to 20th October (stand E1)
7 October 2010
Renishaw is focusing on measurement, calibration and motion control at TCT Live, with live demonstrations of its new award winning PH20 five-axis probe head for CMMs, a new wireless system for assessing machine tool positioning performance, plus high resolution incremental and absolute encoders for precision motion system manufacturers. There will also be displays of Renishaw's machine tool probe systems that improve process control for machining operations and the opportunity to discuss the company's award winning CMM retrofit service.
The TCT Live show takes place at the Ricoh Arena, Coventry, UK, from 19th to 20th October, and on stand E1, Renishaw will demonstrate a PH20 probe head that it has retrofitted to an 11 year-old Zeiss co-ordinate measuring machine. The new PH20 five-axis head was recently awarded 'Most Innovative Measurement System' at the German AMB exhibition, influenced by its ability to offer a three-fold increase in throughput for touch-trigger measurement applications. It offers unique 'head touches' for rapid touch-trigger measurement, plus fast infinite 5-axis positioning to guarantee optimal feature access. Its compact design makes it suitable for new CMM purchases and as a retrofit to the vast majority of existing CMM touch-trigger installations.
Also being shown at TCT Live is a wireless successor to Renishaw's well established QC10 ballbar system, which rapidly assesses machine tool positioning and servo control performance. The QC20-W ballbar features Bluetooth® wireless technology and allows testing in 3 orthogonal planes through a single reference point. A single, simple hardware set up means quicker testing and the ability to produce a representative volumetric measurement of positioning accuracy.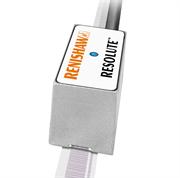 There will also be a range of new motion control products, including the revolutionary RESOLUTE™ absolute optical encoder for rotary and linear applications that is capable of 1 nm resolution at speeds up to 100 m/s. There are also new additions to Renishaw's TONiC range of incremental optical linear and rotary encoders, including 1 nm and 2 nm resolution options, UHV compatible formats, and a Dual Signal Interface (DSi) version that allows two readheads to be used to improve the accuracy and repeatability of a motion system by eliminating eccentricity, bearing wander and all 'odd' error harmonics.
More information about Renishaw products can be found at www.renishaw.com.
All images and text copyright Renishaw
News updates
Register for regular news updates from Renishaw