neurolocate™ frameless patient registration module
Introducing the neurolocate module - the patient registration module that provides frameless registration with frame-based accuracy.
What can the neurolocate module be used for?
The neurolocate frameless patient registration module is designed for use with the neuromate® stereotactic robot. The neurolocate module does not require any skin or bone anchored fiducials and enables intraoperative registration to be carried out using either computed tomography (CT) or X-ray. The technology is based on a fiducial marker that is mounted on the robot arm during intraoperative CT/X-ray.
Highlights
The neurolocate registration module provides a new frameless registration system for the neuromate robot, and with it brings many advantages:
Potential for time and cost saving by utilising the benefits of intraoperative imaging in the operating room;
Improved patient comfort due to shorter procedure times and absence of bone or skin anchored fiducials;
Increased flexibility of the patient head position due to the adjustable nature of the fiducial marker frame;
Compatible with existing frame systems for holding the patient head;
With both CT and X-ray compatible modules available, the neurolocate module is able to integrate with your hospital's existing technology.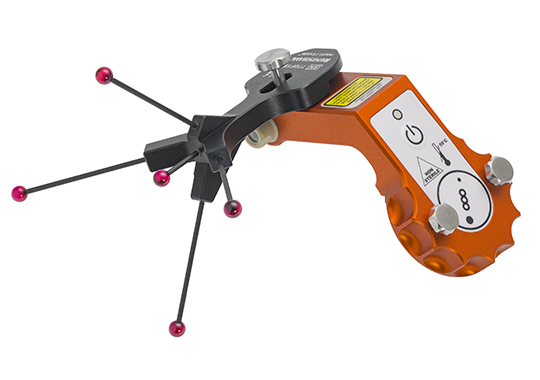 neurolocate provides us with multiple advantages compared to currently available registration systems. As all the planning images are taken well in advance of the procedure, without the need for any fiducials, we are able to work in frameless mode with the precision of a framebased procedure; fully exploiting the capabilities of intraoperative imaging and eliminating the need to move the patient between the operating room and the CT scanner facility.
Dr. Francesco Cardinale
Neurosurgeon
Niguarda Hospital, Milano, Italy
How does neurolocate work?

1. At the start of the procedure, the checking gauge may be used to check the geometry of the fiducial marker frame.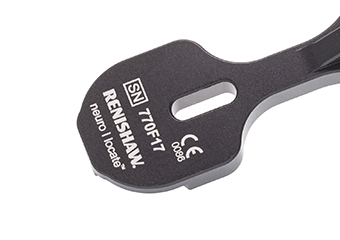 2. The fiducial marker frame is identified within the software (using its serial number), to load the correct calibration parameters.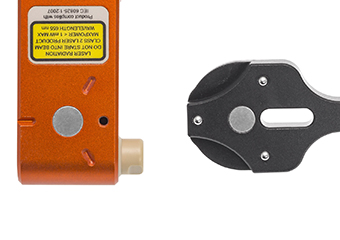 3. The neurolocate fiducial marker frame kinematically attaches to the laser tool holder that is mounted on the neuromate arm, to provide precise positioning.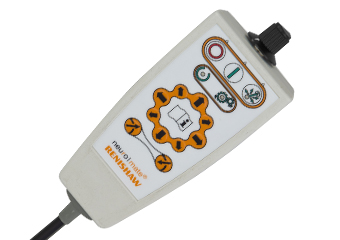 4. The fiducial marker frame is moved into an optimal registration position using the neuromate remote control. The kinematic mount from the fiducial marker frame also acts as a safety feature if the robot is moved too close to the patient.
5. Either CT or X-ray image acquisition is performed and subsequently loaded into the planning software. Fiducials are identified and the registration process is completed.
6. Registration is verified with the laser tool using anatomical landmarks or skin fiducials.
Please note that not all Renishaw products, their fields of application, relative accessories or combination thereof, are available in all countries.
Renishaw Neuro Solutions Limited – Legal and Privacy Notices. Click here