Renishaw neuromate® robot installation at Sant Joan de Déu Barcelona Children's Hospital in Spain
05 July 2016
Renishaw is pleased to report the successful installation of its neuromate® stereotactic robot and surgical planning station. Sant Joan de Déu Barcelona Children's Hospital is not only one of the oldest paediatric centres in Europe, but is also one of the most important. It is a European Centre of Excellence, renowned for its cutting edge procedures and state-of-the art facilities. Since the installation in April 2016, the system has been used successfully for both stereoelectroencephalography (SEEG) for epilepsy and deep brain stimulation (DBS) for dystonia procedures. The centre also plans to use the system for endoscopy procedures in the near future.

Dr Jordi Rumià (Head of Functional and Stereotactic Neurosurgery at Hospital Clinic), together with Dr Santiago Candela Cantó (Paediatric Neurosurgeon at Sant Joan de Déu), have used the neuromate system for multiple SEEG procedures. They are pleased to report good results in terms of accuracy and patient outcome and are feeling positive and motivated about the use of the system for the future.
Dr. Jordi Rumià during a Stereo-EEG procedure as part of the treatment of epilepsy.
Dr Candela said, 'We are really satisfied with the results of the neuromate. We have performed four surgeries including one implantation of bilateral electrodes in GPi for dystonia in an 8 year old child, and 3 SEEG procedures, with an average of 9 electrodes each, in two children 9 years old and a 19 year old. In all four cases the electrodes were placed exactly where we had planned."
"We are very proud of our results because we have good clinical benefit", added Dr Candela. "The dystonia patient doesn't need a wheelchair anymore and is able to play football. In the patients with epilepsy, we have been able to localise the epileptogenic origin. We have already planned the resective surgery in two of them."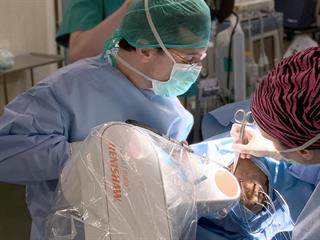 Dr. Santiago Candela Cantó implanting SEEG depth electrodes.
Renishaw takes great pride in the service and support offered, which is reflected by Dr Candela: "After the training with Renishaw's team in our hospital and their support during the first surgeries, we feel confident with the software and the robot."

Victor Escobar, Managing Director of Renishaw Iberica, said, "Working with the team at the Sant Joan de Déu Barcelona Children's Hospital is an amazing and highly rewarding experience. They are not only highly professional but also extremely conscious of how different a child is as a patient. They made it very clear how important this was for them since we started talking about integrating the neuromate robot in their workflow. Now, when the team reports any improvements in a child´s life, it makes me feel proud of the work they are doing."
About Sant Joan de Déu - Barcelona Children's Hospital
Sant Joan de Déu - Barcelona Children's Hospital is one of the leading medical centres in Europe for childhood and adolescence and offers a comprehensive and multidisciplinary approach to health care from birth through 21 years of age. The alliance between the University of Barcelona and the Clinic Hospital is well known in Spain and is one of the international reference centres for highly specialised hospital care, teaching and research. It annually handles more than 25,000 inpatient admissions, 200,000 outpatient visits and 115,000 emergencies. Each year the hospital also performs more than 14,000 surgical procedures and handles around 4,000 births.